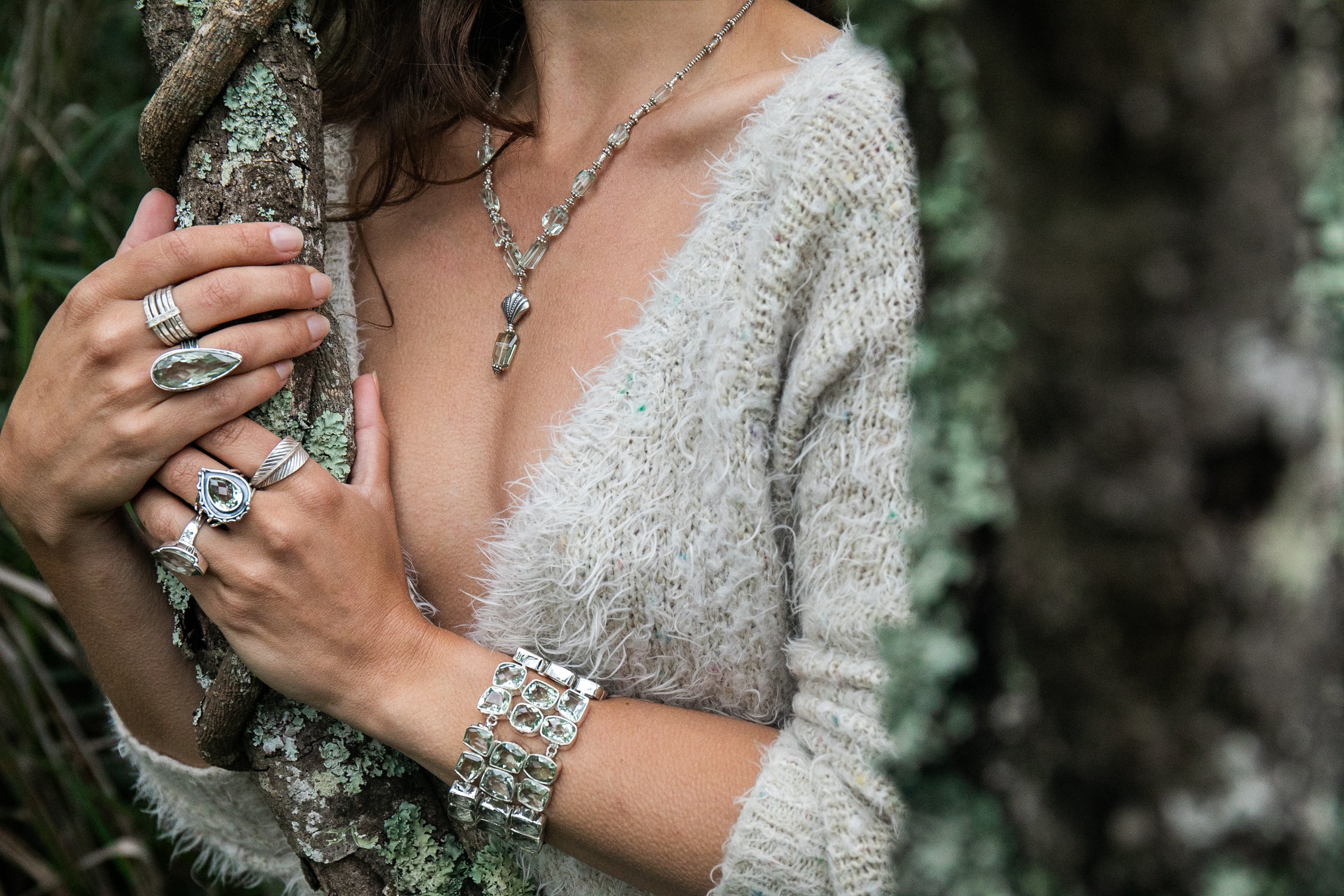 Australian Made & Designed
Explore our huge range of high quality gemstone jewellery, find something absolutely one of a kind, wear it with unadulterated pleasure, knowing it will stand the test of changing trends and keep you feeling and looking gorgeous for years to come
★★★★★

20 Sep, 2023

I purchased another jaw-dropping piece from Marli. This bracelet is absolutely stunning. I felt the energy of larimar as soon as I wore it. 🫶❤️

Burcu

Hertfordshire, UK
★★★★★

08 Sep, 2023

This isn't my first purchase, and definitely will not be my last from Juno! Every piece is perfection, and somehow looks even more amazing in person. Whatever you're considering, just don't hesitate; it'll be worth every penny!

Kristy

AB, Canada
★★★★★

29 Aug, 2023

Stunning! What a great twist on a classic necklace!! Another great purchase from this shop! Very happy!

Lisa

NC, USA
★★★★★

18 Aug, 2023

Just look at this bangle 😜 🔥😍🙌🏼Absolutely divine! I purchased this as a gift for my daughter whom fell in love with my similar bangle with moonstone! She was blown away! The silver is high quality with genuine AA grade gemstones. If you are lucky enough to see one up on this shop do yourself a favour and invest ❤️ Truly delicious 😀 Thankyou again for a marvellous transaction with exceptional customer service 🙏🏻 Warm wishes, Karen

Karen

Tas, AUS
★★★★★

22 Jul, 2023

Simply stunning! Beautifully made earrings, exactly as described. Packaging was lovely and delivery was quick.

Vanessa

Louth, UK
★★★★★

13 Jul, 2023

Beautiful craftsmanship and very high quality. Only the very best from Juno Stone and Silver. Don't hesitate if you're thinking of buying. You won't be disappointed.

Cassie

Corvallis, USA
★★★★★

13 Jun, 2023

I had been looking for this color in ocean jasper - candy pink and not transparent. Love it!!! The adjustable ring is designed very well. Thank you!!!

Keiko

Egodawa-ku, JAPAN
★★★★★

29 May, 2023

Very beautiful necklace made with talent, care and love; I love wearing it and the stones are lovely. Thank you! I highly recommend Marli's marvellous creations.

Isabella

Vic, AUS
★★★★★

19 May, 2023

Gorgeous stone and superb silver work! Third piece from Juno and each one fabulous! Thank you, I love it!

Trish

Vic, AUS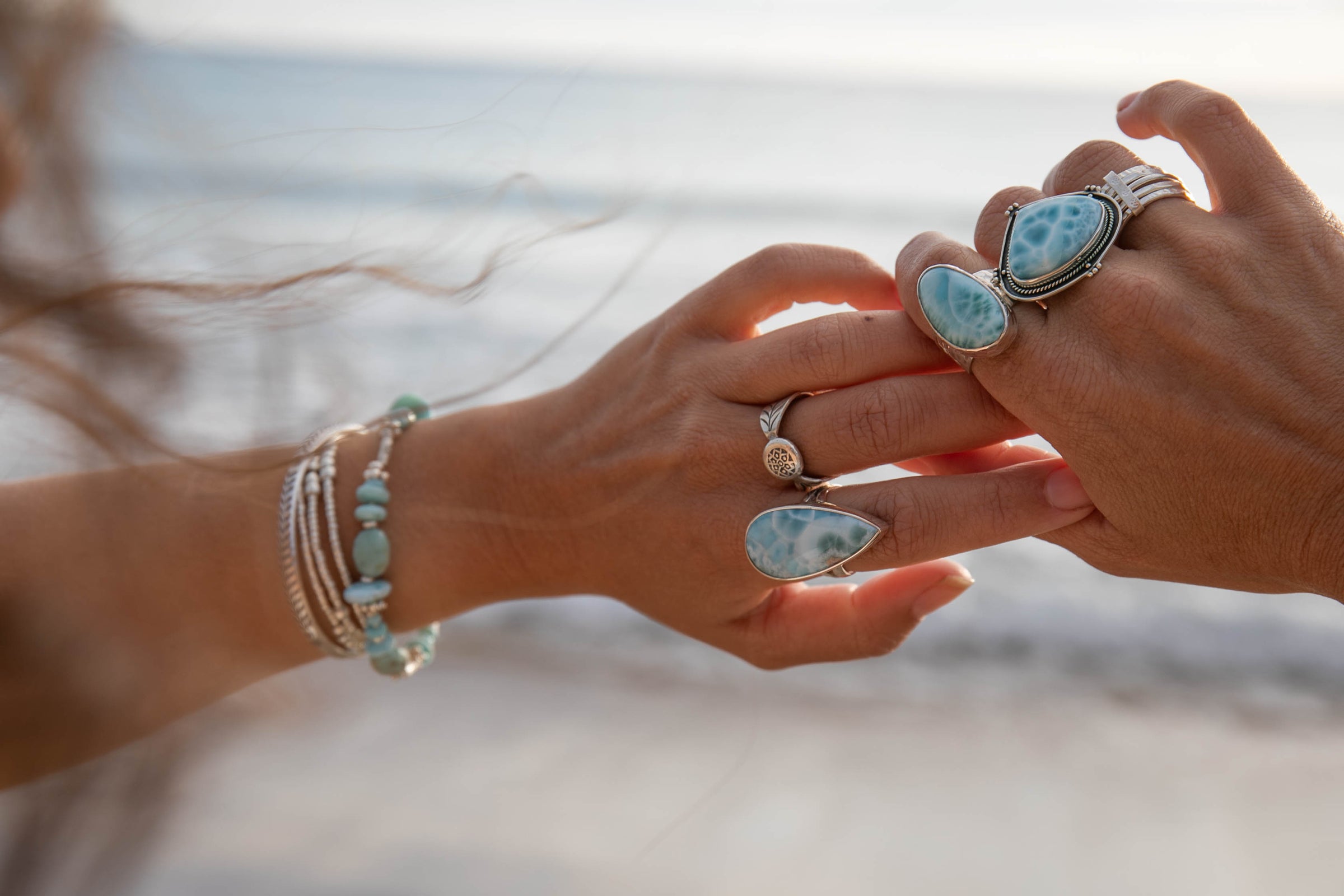 explore
larimar
Rare, joyful and endlessly unique, Larimar is one of the worlds most coveted stones. Evoking visions of glittering clear seas and salty skin vibes it is no wonder its so well loved in our island country.
explore larimar jewels
Yes we certainly do! We currently have free standard shipping included in the price. You can also upgrade to express and add insurance to your order at checkout. 
Oh yes! Yes of course. At Juno we only deal with 92.5% Silver or higher. The jewellery made with Thai Hill Tribe Silver can be anywhere from 96%-100% Pure silver, which is what gives it that beautiful matte white lustre.
Our Gold plated products are 14k Gold Plated Sterling Silver.
Marli designs everything in her studio in Australia. She makes all of the bespoke beaded pieces by hand and the rings, pendants and earrings she has set by wonderful family run Silvermith's in Bali.
They are highly skilled, trustworthy with the silver content and incredibly fair and honest with their employees.
Marli has a close relationship and even plays volleyball with them when she's there!
Not at the moment unfortunately, maybe one day!
We sell here, in our online shop, we have an Etsy shop, and we do a local markets and festivals occasionally
Marli is very happy to take custom orders and do adjustments for the beaded pieces!
Make your enquiry on the 'Contact' page
Start by measuring as accurately as you can, the diameter (the length across the inside) of a ring you have.
Follow this link to match your size on the chart!
http://www.ringsizes.co/
Juno sizes are in US sizing